Your brain keeps blocking your growth.
When you participate in something new or something where there has been trauma, your heart races.
There is a thought, a frustration, a fear, a tension that you find yourself criticizing and judging.
"How do I calm these reactions?" you wonder.
Try a different type of therapy.
Not that other therapies have not helped; it's just that you find it hasn't touched the root of the issue.
Something tells you the stress you deal with comes from or is connected to something deeper.
You heard about this therapy approach called EMDR that works on roots of trauma and are curious.
Tell me more about EMDR.
It stands for Eye Movement Desensitization and Reprocessing and is a therapy approach developed in 1989 by Francine Shapiro, who noticed her distressing thoughts decreased with the use of bilateral stimulation.
It is used by trained EMDR therapists to help calm and shift information that is haunting you.
How long will it take?
That is based on the evaluation of your nervous system and your nervous system's ability to swing in and out of distress.  It could be a month to several years.
What can I expect?
You will first meet with me to be evaluated to see if you are a good fit for EMDR. Then, we will collaborate on a treatment plan that works best for you.
Initially, I will ask you questions about you, get to know your history, present issues, and expectations.
My EMDR therapy approach is a combination of the top leading trauma therapy including Somatic therapy and Mindfulness mixed with EMDR.
You may be surprised to find it's a different type of therapy than "regular" talk therapy.
EMDR is not just talk therapy.
This therapy experience is a moment-to-moment noticing of yourself and the many parts, thoughts, emotions, and reactions that go unnoticed, unmet, or uncommunicated.
It's about feeling safe. Imagine sharing what's on your mind in a place of curiosity and interest, free of judgment.
It's your reactions we are getting to know, your triggers we are getting to identify, and your experience we are understanding.
I am your guide….
About Thasja Hoffmann, LMFT, LPCC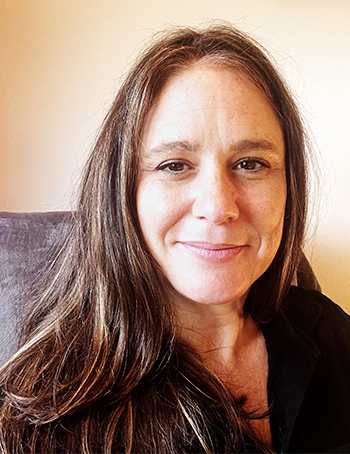 I moved to sunny Los Angeles in 2000, several years after receiving my BFA in Chicago. I took my guitar and some clothes and drove my little Geo Metro out to L.A. My dream was to work in the movies. I had wanted to become a makeup artist and was fortunate to know someone who knew someone who was the wife of a Special Effects shop owner. This led me to my chance to fur the antlers on the (animatronic) reindeer puppets on Santa Cause II.
Through this journey in the film industry, I noticed that I most enjoyed learning people's stories and listening to and supporting their pain/heartaches. This inspired me to get my Masters in Marriage and Family Therapy in 2005.
Due to my own healing, following my licensure, I started on a journey to become a Somatic practitioner and became intrigued with EMDR. I eventually became an approved EMDR consultant after working closely with an EMDR trainer. I also trained in Sensori-Motor Psychotherapy, Mindfulness, and Accelerated Experiential Dynamic Therapy. Through my professional development, the focus on observation of the self and the interaction with the other has remained the most influential practice for my work.
The takeaway that I want my clients to notice is that I both delight in and take seriously the importance of continuing my learning so that I can offer the best support wherever you find yourself in our work together.
Outside the Office…
…a human balancing life, forever learning, and discovering new things. I love what I do for work, and I also love to hike and spend time with my family and friends.